Mothers Guild serves families in Ventura, Ojai, Santa Barbara, Oxnard, Camarillo, Thousand Oaks, and surrounding areas.
Breastfeeding Education and Support
Lactation consultant services provided by Mother Guild include: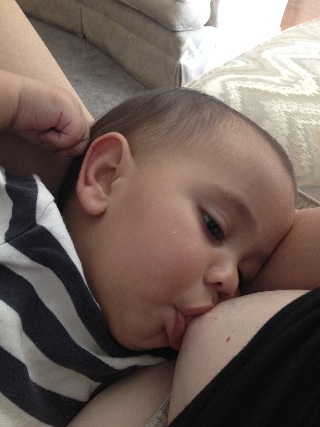 pre-natal breastfeeding classes
in home consultation
assistance in properly positioning and latching your baby for comfortable nursing
help assessing whether your baby is breastfeeding adequately
help getting a reluctant baby to latch to the breast
treating and elimination of sore nipples and nipple damage due to poor latch or positioning
treating and elimination of sore breasts due to non-optimal breastfeeding management
assistance pumping for return to work or school
assistance introducing complementary foods ("solids")
continued availability and support by phone or e-mail
referral to and communication with other clinicians for issues including but not limited to

lip tie
tongue tie
abnormal oral anatomy
yeast infection of the breasts (thrush)
infection of the breasts (mastitis)
failure to thrive or low weight gain
other serious breastfeeding related issues
It is our belief that every new mother can benefit from lactation support, even in the absence of obvious complications. This not only benefits the new family with reassurance and documentation of normal infant feeding, but also offers an early safety net for babies who may be, unknowingly to the parents, feeding in a less-than-optimal capacity. Additionally, it offers an early contact point with live, compassionate support that is available 24-hours a day. A planned in-home postpartum visit with a lactation specialist can increase breastfeeding rates, and significantly reduce the stress and anxiety that may accompany the initiation of breastfeeding.
Contact Mothers Guild to inquire about lactation services.
Breastfeeding Classes
Childbirth Preparation Classes
Preparing for childbirth isn't just about knowing the stages of labor and practicing breathing techniques. Birth is powerful and unpredictable.
What will you need to know to give birth?
Mothers Guild teaches birth classes cover:
Pain-coping practices including physical practices, self-hypnosis, and visualizations
Giving birth mindfully with or without medication or during a Cesarean
Eating healthfully for pregnancy and breastfeeding
Creating and protecting your birth space
Asking questions and making informed decisions in labor
The physiology, hormones, and course of birth
Unexpected challenges you might face in labor
Pushing your baby out
How to welcome your baby
The basics of breastfeeding and newborn care
Additionally, you will prepare by exploring pregnancy, birth, and parenthood through art, discussion, and storytelling.
Cost is $120 for Mother and Partner for the 6 Week Series.
Contact Mothers Guild to inquire about our next class series.

Doula Services
A doula is a woman experienced in childbirth who provides advice, information, emotional support, and physical comfort to a mother before, during, and just after childbirth. Darcy is a DONA-certified doula.
The Mothers Guild doula package includes the following:
2 pre-natal consultations (excluding our initial consultation which is provided free of charge)
availability to answer questions by phone or e-mail from the time of initial consultation through the newborn period
on call 24/7 for labor and birth starting at 36 weeks **
help writing a birth plan
continuous labor support from the time active labor starts until you are ready to rest with your new baby
help initiating and establishing breastfeeding
2 post-partum visits
Contact Mothers Guild to set up a free consultation to discuss your family's needs.
** Arrangements for suitable emergency replacement will be made with you upon your first pre-natal visit.